SHAFT RECOMMENDATION
Four main conditions make the seal and shaft more compatible and assist in providing optimal seal performance.
SHAFT HARDNESS
Normally seal contact area of the shaft should be Rockwell C 45 minimum. It is and important factor to prevent excessive wear, deformation, scratches or nicks, and to control the roughness or machining surface easily.
SHAFT SURFACE ROUGHNESS
The recommended shaft surface roughness is as follows:
Rotating: 10 to 20 µ inch AA (.25 µm to .50 µm AA).
Reciprocating: 5 to 10 µ inch AA (.13 µm to .25 µm AA).
This is very critical as greatly influence the amount of lip heat, thus this finish not be overlooked.
GRINDING
Rotating Shift: plunge grinding is recommended.
Reciprocating shaft: centerless grinding is acceptable.
Cast iron or stainless steel shafts for rotating applications and steel shafts for reciprocating applications, we suggest using hard chrome plating. The finishing surfaces described above are required to have no machine lead, otherwise it may actually pump fluid from wider the seal lip.
SHAFT CHAMFER
Without proper chamfer on shaft, the seal lip may be damaged or distorted resulting in dislodged garter spring. We suggest chamfer as Table 2-3 to assist in the installations process.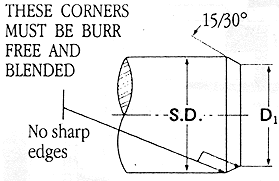 Table 2-3


INCHES

MILLIMETERS

S.D.

D1

S.D.

D1

S.D.

D1

S.D.

D1

Up to 1.000

S.D.-.094

4.001 to 5.000

S.D.-.220

Up to 25.00

S.D.-2.4

100.01 to 125.00

S.D.-5.6

1.001 to 2.000

S.D.-.140

5.001 to 6.000

S.D.-.260

25.01 to 50.00

S.D.-3.6

125.01 to 150.00

S.D.-6.6

2.001 to 3.000

S.D.-.166

6.001 to 10.000

S.D.-.276

50.01 to 75.00

S.D.-4.2

150.01 to 250.00

S.D.-7.0

3.001 to 4.000

S.D.-.196

-

-

75.01 to 100.00

S.D.-5.0

-

-
SHAFT INSTALLATION
The advisable sequence of installation is to install the seal over shaft and then into the housing bore. Care should be exercised not to damage or deform the seal lip. The proper chamfer angle will minimize this problem. When installing the seal over a keyway or spline, you should employ a sleeve or bullet to protect the sealing lip from being cut.
When the shaft is installed through the seal, the centering guides for the shaft will prevent the deformation of lip and the dislodging of spring. If possible, the shaft should be rotated as it passes through the seal to reduce sliding friction.