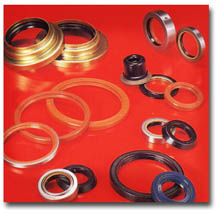 The most important component of an oil seal is the clastomer material.
To consider the environmental conditions, the following properties
are important:
Good chemical resistance
Good resistance to heat and low temperature
Good resistance to ozone and weather aging
Good elasticity
High resistance to water
Low compression set
Raw material cost
In order to satisfy various sealing conditions, AAI has many compounds available for your choice.
BASE POLYMER
NITRILE
POLYACRYLATE
SILICONE
FLUOROELASTOMER
Material Code
N
P
S
V
Temperature Range *
-40 F ~ 250 F
(-35 C ~ 120 C)
-20 F ~ 300 F
(-30 C ~ 150 C)
-80 F ~ 400 F
(-60 C ~ 200 C)
-30 F ~ 400 F
(-35 C ~ 200 C)
Oil Resistance
E
E
G
E
Acid Resistance
G
F
F
E
Alkali Resisitance
G
X
X
F
Water Resisitance
G
F
G
G
Heat Resistance
G
E
E
E
Cold Resistance
G
F
E
F
Wear Resistance
E
E
G
E
Ozone Resistance
G
E
E
E
ASTM D2000 Spec.
2BG715B14B34E014
EO34EF11EF21
SDH710A26B16
B36EO16EO36
2GE8O7A19B37
EO16EO36G11
2HK710A110B38
* maximum temperature limits depend on other operating conditions.
Advantage
Disadvantage
FLUOROELASTOMER
Good temperature resistance.
Commonly chosen as high temperature replacement for Nitrile or Polyacrylate.
Fair resistance to water, dry running.
Low temperature resistance is fair.
POLYACRYLATE
Polymerised acrylic acidesters or PA and ACM.
Good resistance to mineral oil, hypoid gear oil E.P. additive, greases, aging and flex cracking.
Poor cold temperature limit, dry running ability, water resistance.
Lower mechanical strength.
NITRILE
Commonly referred to as Buna-N or NBR and is copolymer of Butadiene and Acryonitrile.
Good resistance to petroleum oils, water, silicone oil, greases, glycol base fluids.
Good abrasion resistance, cold flow, tear resistance.
Poor resistance to ozone and weather aging.
SILICONE
Broad temperature range.
Good ozone resistance
Resistant to compression set.
Low resistance to hydrocarbon fluids like gasoline or paraffin fluids or steam above to 50 psi.
TABLE 3 Fluid Compatibility
LIP MATERIAL
TYPE OF FLUID TO BE SEALED
NITRILE
POLYACRYLATE
SILICONE
FLUOROELASTOMER
Engine Oil
E
E
G
E
Gear Oil
G
G
X
E
Turbine Oil No.2
G
G
G
E
Machine Oil No.2
G
G
F
E
Automatic Transmission Fluid
E
E
F
E
Petroleum Base Lubricating Oil
E
E
F
E
Gasoline
F
X
X
E
Light Oil / Kerosene
F
X
X
G
Cutting Oil
E
G
F
E
Grease
E
E
E
E
E.P. Lubricants
G
E
X
E
Water - Glycol
E
X
G
G
Alcohol
E
X
G
F
20 % Hydrochloric Acid Solution
F
F
F
E
30% Sulfuric Acid Solution
F
F
X
E
E Excellent
G Good for most applications.
F Fair, can be used if no other materials available.
X Not recommended.
Phosphate Easter and Water Glycol hydraulic fluids are
not included in the table.
Water resistance includes steam. No material is ideally
compatible as lubricity of water is very poor.
PTFE, Ethylane Acrylate, and other elastomars are available.