"ONE OF OUR BEST CUSTOMERS SAYS IT BETTER THAN WE CAN SAY IT"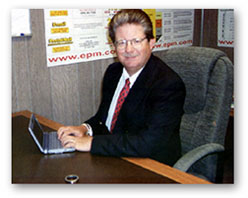 Jerry D. Whitlock
The Seal Man™

As a businessman, I want the best value. That means I expect the best quality, the best delivery time and the best price - all at the same time. Having been in the seal business for 30 years, I have travelled the world in search of the best seal manufacturers, always looking for value.

In 1997, I discovered AAI-India, a world class supplier of oil seals, custom molded rubber parts and rubber-to-metal bonded parts. The products manufactured by AAI-India are among the best available today. It is simple to do business with them. I receive prompt replies to my inquiries, low mold costs and perhaps the lowest parts prices worldwide.

AAI-India under the direction of Mr. Paul Joseph, has become a valued supplier, an important team member and most of all a dear friend to me.

I highly recommend AAI-India to companies seeking customer focused manufacturer of quality seals and rubber components with a professional approach to business. AAI-India offers the best value!

Respectfully,
Jerry D. Whitlock
The Seal Man™
President / C.E.O.
EPM, Inc.